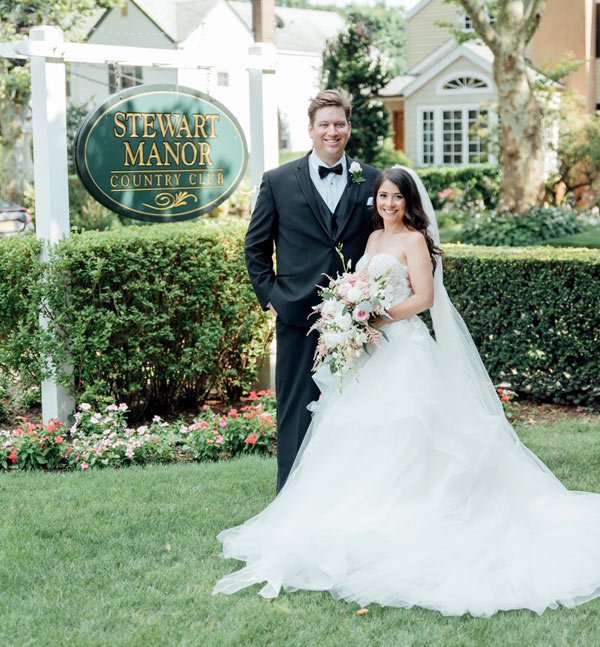 Established in 1927, The Stewart Manor Country Club is a historical site rich with warmth, charm, and elegance. Spring and summer weddings have the advantage of our Great Lawn, a plush outdoor space to say "I do" at your ceremony under our lovely gazebo or sip cocktails with your guests before the reception commences inside. In the cooler months, weddings enjoy the benefit of our stunning fireplaces for creating a cozy and romantic setting felt by all. Then dance the night away in our Grand Ballroom with its original hand laid maple dance floor and cathedral ceiling with Tudor style mahogany beam work.
The Stewart Manor Country Club is open to the public and the ideal catering location on Long Island to celebrate your wedding day. We look forward to working with you and welcome you to contact us at 516-328-7540 / StewartManorCountryClub@gmail.com, or simply come visit us at your convenience.
The Stewart Manor Country Club's historic design requires little adornment and will compliment your decor whether you envision understated and redefined or extravagant and grand. At The Stewart Manor Country Club we host only one event at a time and our entire staff prides themselves on the highest level of focused service. Our experienced Banquet Managers are here to assist and guide you during every step of the planning process and your dedicated Maitre D will ensure each detail of your wedding day is executed to perfection. Executive Chefs are here to customize every menu and meet the needs of even the most discerning palates, while attentive uniformed wait staff serve each guest with a smile.
Our Executive Chefs revel in customizing your menu to perfection so that even the most discerning palates are satisfied.
Whether you envision your dream wedding in the spring as they walk through this wedding reception hall that has been the home to countless weddings since it was constructed in 1927. Hosting one wedding at a time will allow you and your guests to become comfortable with their surroundings so that you can enjoy your special day. Our charming fireplaces offer a warm welcome in the fall and winter months and the Great Lawn adds on our ability to have outdoor cocktails in the spring and summer. Enjoy delectable cuisine and signature cocktails within three rooms for your cocktail hour, the lobby, main cocktail room and our wood drenched bar room. As your guests make their way into your reception our main dining room will send their eyes skyward as they gaze at the cathedral ceiling with immense mahogany beams and soft dancing lights. The original stone carved fireplace is used as a stunning backdrop to photos throughout the day or night. Our staff will ensure that every one of your guests is shown the highest level of service so that they will be talking about your wedding reception for years to come. Our maitre d will work along side your vendors to see that all your wishes carried out with perfection so that you can revel in your wedding day. Let us show you how we can make your dream wedding a reality.
Have Questions?
Contact our experienced staff with any of your questions. They can help you customize your events to make it truly memorable.
Many People Search for Wedding Venues by Using the Following Phrases:
They all lead to us! We provide affordable Wedding parties packages that can be customized to fit your exact budget needs and party desires. We pride ourselves on doing things "Your Way"!